Mike is available as a solo acoustic act. He performs original songs written by himself and friends He also plays a large variety of cover tunes: country, bluegrass, folk, and rock.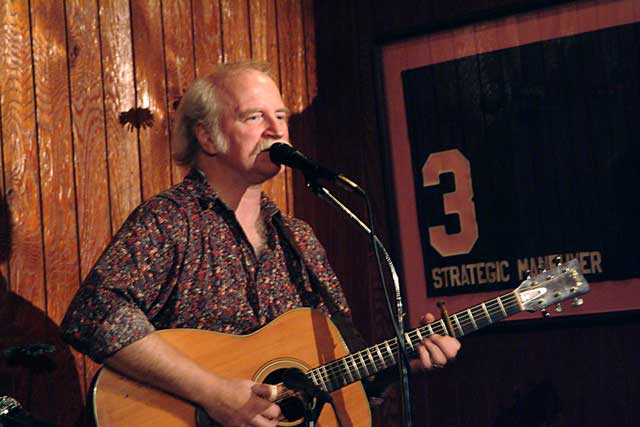 p

T

photo by Jim Polaski

The song samples here are from his cd "Mike Dunbar '02" which is out of print. The first one, "Mama's Dancing" was written for a Mother's Day radio show broadcast from the Old Town School of Folk Music. Townes Van Zandt offered the suggestion that Mike "Tell her story and make it rhyme." Then comes "A Man's Intuition." a bluesy number with his own made-up slide guitar tuning. "The Voice" was written with Mike's long time friend Lee Cupp. "The Medicine Show" has been played many times on WFMT radio Chicago's syndicated show, "The Midnight Special" as well as having been put in rotation for play on Chicago's giant pop station WLS, back in the 1970's.

Mike began performing in Chicago at the age of fifteen. At sixteen as part of "Mike and Michelle" with Michelle Tarallo they won the first Chicago Folksingers Contest (The winner of the third annual contest was REO Speedwagon's lead singer and songwriter, Kevin Cronin.)
The next few years to and through college included many coffeehouse gigs on the bill with people like Josh White Jr.; Friend and Lover (#4 rock hit 1968 "Reach out of the Darkness"); and an appearance on the WGN Radio Barndance. In college, Mike majored in Vocal Music. He was president of the Madrigal Singers, a choir member, and editor-in-chief of the school newspaper.
After school Mike began teaching at the Old Town School of Folk Music, He taught there for over seven years and conducted the Old Town School of Folk Music Choir.
While teaching, Mike Dunbar performed at venues such as the Earl of Old Town, Orphans, Somebody Else's Troubles, and the Barbarossa. Chicago Magazine called him "Chicago's favorite singer/songwriter." Around 1976 Betsy Redhed and Mike formed the band Redhead. They were named best new country band by the Chicago Scene, and released an album which had songs played in rotation on WLS, and on WGN radio, as well as being played consistently on WFMT's Midnight Special.
In 1979, Mike Dunbar was offered a job with a nationally known bluegrass band, Red, White, and Blue(grass). This was when he moved to Nashville Tennessee. His earliest goal in music, from back in high school, was to become a studio musician. Nashville gave him the opportunity to do just that. Since then, he's played thousands of sessions and has worked with some of the biggest names in music. But he still likes to play as an acoustic solo, and has done so in Nashville and Chicago, as well as in Florida, Kentucky, Arkansas, Wisconsin, Iowa, and in Germany, Switzerland, and the Netherlands.

He would be happy to perform for your venue, club, or gathering. Feel free to concact him for more info at:

mike@mikedunbarmusic.com